Larry Sandefer is a former prosecutor, Division Director, and Lead Trial Attorney, with extensive experience in criminal law.
WE ARE A  CRIMINAL DEFENSE LAW FIRM IN PINELLAS COUNTY
Although we handle criminal defense matters throughout Florida we are located in Clearwater and St. Petersburg and the majority of our cases are in Pinellas and Pasco Counties, the 6th Judicial Circuit of Florida
We will represent you aggressively and diligently to get the best possible outcome for your case  
Larry Sandefer can help you in obtaining release from jail and ROR, help with outstanding warrants, record sealing or expungement, with Florida criminal appeals, with juvenile cases and defending all Florida criminal charges and accusations  including:
Driving Offenses
First Time Offenders
Bail / Warrants, Getting out of Jail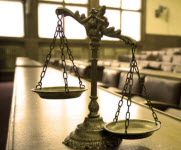 If you have been arrested and bail has not been posted, Sandefer Law Firm can assist you in reducing the bail, being released on your own recognizance, or working with a bondsman. On cases in which a warrant has been issued or may be issued, but you have not yet been arrested, it may be possible to delay execution of the warrant and/or to appear before a Judge before arrest to have the bond reduced or to secure your release. without being booked. These are all matters which should be discussed with us as soon as possible.
Drug Courts and Drug Cases
Pinellas, Pasco, and Hillsborough Counties as well as most counties in the state of Florida now have drug courts. Certain cases may qualify for entry in to drug court which focuses on recovery and treatment instead of punishment. You may qualify or be able to be qualified if that is a good option in your case. Not all cases are best served in drug court, but if yours is, completion of court could result in no conviction of the charge or charges. Sandefer Law Firm can assist you in obtaining an assessment and with entry in to drug court as well as helping you proceed through the drug court process and completion.
Often for cases that are not appropriate for or qualified for drug court we may still direct you to an appropriate counselor or evaluator that can assist you by assisting us in resolving your case in the best possible manner.
Pre-Trial Diversion or Dismissal of Charges, Can we Help You avoid going to Court altogether?
Please talk with us about Diversion Programs which may be available to you and can result in the dismissal of charges without trial. These include Pre-Trial Intervention and the Domestic Violence Intervention Program.
Also ask us:
If a Withholding of Adjunction is possible which may allow a plea but no conviction. Is that something we many want to pursue?
Can you get your arrest sealed or expunged?
These are only some of the questions we can answer for you.
Mental Health, Drug, and Rehabilitation Referral and Placement
It may be advisable for you to enroll in certain types of classes such as anger management or family violence before going to court or a drug or alcohol evaluation and let you know when and why this may help in your case. We can direct you to the right person and program best suited for your needs and presenting your case. Sandefer Law Firm can also match your needs with specific outpatient or residential drug program referrals as may fit your particular situation or needs.
Over thirty five years of trial and courtroom experience gives us the ability to assess your case and provide you with access to the resources we need to help you that will help us most in your defense.  Call us and let's talk.
Out of State or Residents Charged in Florida Please contact us, We can help you.
Sandefer Law Firm often represents clients who have visited Florida and had the unfortunate experience of being arrested or charged with an offense while here. Also, many people have moved from the area before their case has been disposed of. Very often we are able to represent those people "long distance." Many times can be handled the case without the person having to come back to Florida. This can be through motions, or negotiations, getting a charge dismissed, or convincing the state to reduce a charge to a misdemeanor and allowing a plea by mail. Call or email the firm about your particular situation.
I was questioned but not arrested—Yet
If you have been questioned (or are a suspect) and have not been arrested, it is important to consult with an attorney about your rights and the best course of conduct in your particular circumstances. Do not guess or assume what you believe may be the correct action to take. A mistake can be difficult to undo. You should always consult with an attorney before deciding whether to make any statements to the police or to any other persons. Your rights and your future could be at stake.
It is vitally important to discuss your case with an experienced lawyer. Please CONTACT US NOW for your FREE initial consultation.
Larry Sandefer – Criminal Defense Attorney —   DUI Defense Attorney
Over 35 Years Courtroom Experience
Former Prosecutor   Lead Trial Lawyer & Division Director
Over 5000 Criminal Cases Handled
Hundreds of Jury Trials as sole or lead counsel
FREE Consultation with Larry Sandefer – Please feel free to contact us with a description of your needs, all initial consultations are free.