[meteor_slideshow slideshow="arrested2″]
Arrested in Florida?
What Happens Next in the Legal Process
Larry Sandefer – Criminal Defense Attorney & DUI Defense Attorney
Over 30 Years Courtroom Experience
Former Lead Trial Lawyer & Division Director
Over 5000 Criminal Cases Handled
Hundreds of Jury Trials as sole or lead counsel
Arrest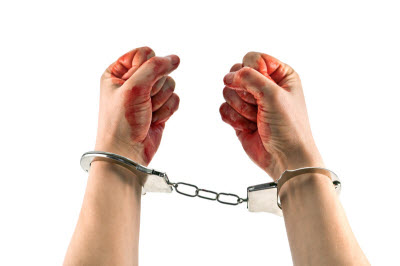 Once a person has been arrested, they will normally be taken to a jail. On some misdemeanors a police officer may provide a person with a "Notice to Appear" which will have a court date and time on it. In such instances you will be required to appear in court at that date and time. If you do not, a warrant could be issued for your arrest. A "Notice to Appear" is considered an arrest although you are not taken to jail, and the legal process begins.
Advisory
If you do not bond out, you will be taken within 24 hours before a judge who will "advise" you of the charges against you and who may consider a bond. You should not make any statements about what you were charged with as these can be used against you. There will be a prosecutor present as well as a judge and other court personnel.
Referral for Prosecution
After the arrest, the case will be referred to the State Attorney's Office to a prosecutor for referral to file charges. The prosecutor will examine a police report and determine which offense to file or if a charge will be filed. This is a critical time in which your attorney should be contacting the prosecution.
The prosecutor has immense discretion as to what charges to file. Criminal charges range anywhere from a second degree misdemeanor up to a life felony. Many crimes which may seem minor can be charged as extremely serious criminal charges. One example, although there are many, would be a situation where someone reaches through a car window and slaps someone. This can be filed as an simple battery but may also be filed as a burglary with an assault which could carry a maximum sentence up to life in prison.
Arraignment
If charges are filed you will be given a notice for an "Arraignment" in court. At that time, you will appear before a judge. If you have an attorney, the arraignment date may be continued or eliminated. If, however, you do not have an attorney you will be required to attend the arraignment. At the arraignment, the judge will inform you of your charge and ask you if you intend to hire an attorney. If you cannot afford an attorney, the judge will consider appointing a Public Defender to represent you at that time.
Pretrial Conference/Disposition
After the arraignment date, your next court date will be what is referred to as a Pretrial Conference or as a Disposition date. This is a date at which you and your attorney will appear and discuss alternatives. During the time between an arraignment and this date, Sandefer Law Firm will obtain such items as the police report, evidence, videotapes, witness statements, and may take witness statements called depositions. At this court date, a plea could take place or discussions regarding a potential disposition could occur. Often, this date will need to be set for a later time for discussions or further discovery to take place. If you want to proceed to a jury trial, at the Pretrial Conference date or the Disposition date, a trial date will be selected. That trial date will take place at a later time.
Trial  – Your Right and What is It?
You have an absolute right to a jury trial on most criminal charges. You have a right to trial before an impartial jury. The juries normally consist of 6 people, however, in capital cases, the jury panel is 12. Trial consists of jury selection from a panel of prospective jurors. Both the prosecution and defense are allowed to question the prospective panel regarding their qualifications and background. A certain number of challenges are allowed to each side and jurors also may be excused who are unable to sit for various reasons including opinions about the crime or persons. At a jury trial, the State will make an opening statement and present evidence and witnesses, Your attorney has the right to cross examine witnesses and challenge evidence. You also, through your attorney, can call witnesses and present evidence. You have the right to testify and be treated as any other witness or to not testify and not have that held against you. At the end of the trial, both the prosecution and defense will give closing summary statements and the judge will provide the jury with instructions on the law.
The jury will then leave the courtroom and deliberate to reach a decision regarding the charges. Jury trials may take anywhere from one day to several weeks. Any verdict of a jury must be unanimous. All jurors must agree on the verdict whether it is guilty or not guilty. The foreperson of the jury will come into the courtroom and present the verdict form to the judge. The verdict is read by the clerk.
If a person is found guilty, then the case proceeds to a sentencing phase. Felony charges require the use of the Florida State Sentencing Guidelines which provide a score to different types of criminal charges. This score, as well as many other factors, must be taken into account by the judge in sentencing.
You Should Know Your Legal Rights And Options
These are matters that you should discuss with Sandefer Law Firm in detail regarding your case and how it will proceed.
Know Your Legal Rights and Options
Right to a Criminal Defense Lawyer
Defendants have the right to a criminal defense attorney throughout legal proceedings. The court will appoint an attorney for the defendant at no charge if he/she cannot afford to hire one. Yet, at the end of the case, they may be asked to pay all or part of the cost for that attorney, if he/she can afford to.
Right to a Jury Trial
Defendants have the right to a speedy, public jury trial. At the trial, the defendant is presumed innocent, and cannot be convicted unless 6 impartial jurors, or 12 in a capital case such as murder, have been convinced of the defendant's guilt beyond a reasonable doubt.
Right to Confront Witnesses
Defendants have the right to confront and cross-examine all witnesses testifying against them.
Right Against Self-Incrimination
Any person who has been charged with a crime, a Defendant, has the right to remain silent, and the jury will be instructed that silence can not be used against the accused. The Defendant also, conversely, has the absolute right to testify in his or her own behalf and be treated like any other witness.
Right to Produce Evidence
The defendant has the right to present evidence and to have the court issue a subpoena to bring into court all witnesses and evidence favorable to them.
The Legal Process & Sandefer Law Firm's Role
Being arrested is a scary time and we are here to help you know what you should do after a Florida criminal arrest. We also will help explain the legal process and what happens after your arrested.