Arrested in Florida? Are you from another state?
Contact Florida Criminal Lawyer Larry Sandefer today.
Out of town offenders
       Often, people are either visiting Florida on vacation or on business, or they have moved away from the state, and they find that there is a warrant for their arrest for something that allegedly occurred while they were here.
       Also, people come to this area on vacation or a trip and get arrested and released.  They then return to their home state and do not know what to do.  We can help you.
     Out-of-towners are faced with a predicament. When they bond out, they need to get home and leave the state of Florida.   What is the right thing to do?   It is possible also that a person may have an arrest warrant issued for them on a matter that they had not previously been arrested on. They may have become aware of it while doing a job search or in some other manner after returning home.  This could result in an outstanding warrant.
        If you have an charge which is pending in Pinellas County, Pasco County, or Hillsborough County, or which has not been resolved, you should obtain the advice of a local Pinellas County, Clearwater, St. Petersburg, Pasco County, or Hillsborough County criminal defense attorney.Larry Sandefer is not only a former prosecutor, while in the state attorney's office for Pinellas and Pasco County he served as a felony Lead Trial Attorney and also as a Division Director. As a Division Director he made decisions regarding the filing of cases, dropping charges,  the recommended sentences, and the final disposition on cases. He is aware of the procedures utilized in making these decisions and has dealt often with the state attorney on these matters as a defense attorney.
       We may be able to resolve your case without the need of you returning to Florida. Some cases can be resolved by dismissal, or by a plea in absentia. This is a plea which can be done by mail. A disposition may be able to  be worked out regarding probation, a fine, or a similar agreed-upon disposition.
       If you have an outstanding warrant regarding a Florida matter we can also handle that for you. On a Florida matter which involves Florida prosecutors and Florida judges you should consult with a Florida criminal defense attorney.
       We have extensive experience in dealing with people who have been charged with crimes in this area but who do not live here. Please call us for your free and confidential consultation and evaluation. Let us help you. Learn what your options are. The initial consultation is free and confidential and we are happy to help you.
---
Contact Florida Criminal Lawyers
Larry Sandefer – Criminal Defense Attorney & DUI Defense Attorney
* Over 30 Years Courtroom Experience
* Former Lead Trial Lawyer & Division Director
* Over 5000 Criminal Cases Handled
* Hundreds of Jury Trials as sole or lead counsel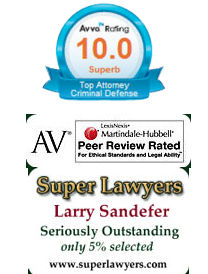 *  FREE Consultation with Larry Sandefer – Please feel free to contact us with a description of your needs, all initial consultations are free.
Sandefer Law Firm – Main Office 4625 East Bay Drive Suite 203 Clearwater, FL 33764
Clearwater: 727-726-5297 Toll Free: 866-786-5297