St. Petersburg Felony Lawyers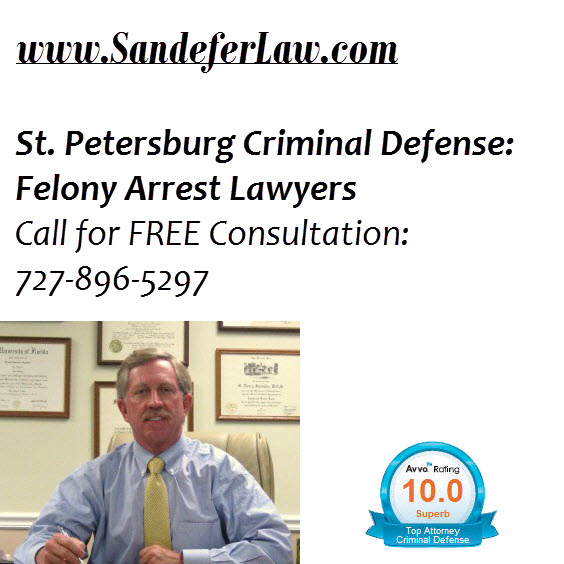 St. Petersburg Florida Felony Lawyer
Felonies are classified as either life felonies, first-degree felonies, second-degree felonies, or third-degree felony. It penalty for a life felony is up to life in prison, for a first-degree felony is up to 30 years in prison, for a second-degree felony is up to 15 years in prison, and for a third-degree felony is up to five years in prison.  Felonies can be increased in the degree of felony by certain aggravating factors such as possession of a firearm during commission of a felony or other aggravating factors. Many felonies carry minimum sentencing provisions.
Florida Sentencing code
Most felonies are subject to the sentencing code contained in Florida statute Chapter 921. Each crime is assigned a point value. Point values are created for prior convictions as well as any present pending charges. The scoresheet is created by the office of the state attorney adding the score of the primary pending offense and any additional pending offenses. A score is added for a prior record and then a score is added for any injuries or for sexual contact. Points may be added for a legal status such as a bond violation or a violation of probation. A score is obtained and then a formula is used under which it is determined if the charges call for a minimum prison sentence upon conviction. Even if the code calls for a minimum prison sentence, sometimes mitigating circumstances found in Chapter 921 can be presented to the judge or the prosecuting authority to try to obtain a lower sentence or a non-prison sentence. There may also be available prison diversion programs or residential drug treatment alternatives.  Certain types of charges supersede punishment code such as the use or discharge of a firearm during the commission of certain felonies. This may fall under Florida's 10 – 20 – life sentencing statute.
**************
Contact St. Pete Felony Attorney
Larry Sandefer – Criminal Defense Attorney
* Over 30 Years Courtroom Experience
* Former Lead Trial Lawyer & Division Director
* Over 5000 Criminal Cases Handled
* Hundreds of Jury Trials as sole or lead counsel
*  FREE Consultation with Larry Sandefer – Please feel free to contact us with a description of your needs, all initial consultations are free.